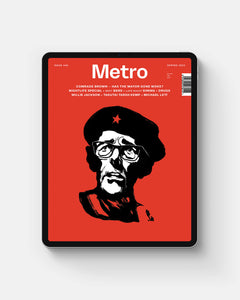 metromag
Issue 440 - Digital
Regular price
$4.97
$0.00
Unit price
per
Tax included.
Issue 440 of Metro delivered as a PDF download.
PDF may take 24 hours for processing and delivery.
Metro N°440 is here!
Inside —
We go out and investigate Auckland's nightlife (or, in some cases, a lack thereof): the best bars, where to eat late at night, what drugs people are taking, and how much they're paying. We go on the campaign trail with Willie Jackson, talk to art gallerist Michael Lett, and start seeing a therapist. And, with Auckland's progressive councilors starting to score some wins under what was anticipated to be a reactionary major, Hayden Donnell asks: Has Wayne Brown gone woke?
Cover illustration by James Stewart
---