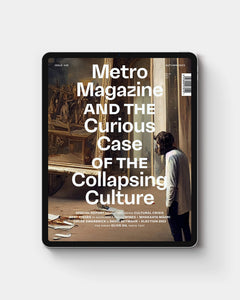 metromag
Issue 438 - Digital
Regular price
$4.97
$0.00
Unit price
per
Tax included.
Issue 438 of Metro delivered as a PDF download.
PDF may take 24 hours for processing and delivery.
Metro N°438 is here!

Inside —

We file a special report on our impending cultural crisis, looking at the state of celebrities, music, film, theatre and art: Emil Scheffmann stares into the private arts funding abyss; Henry Oliver asks where all the celebrities have gone; Kate Prior talks to Silo Theatre about its cancelled 2023 season, and more.

Plus: we introduce Metro Best Dishes, presented in association with Stella Artois; celebrate the Top 50 Wines of 2023 in our annual survey; chat to local MPs Chlöe Swarbrick and David Seymour ahead of the 2023 election season; look into Mitchell Tan's closet; sit down with meme artist Pavlova; taste test 31 olive oils; look to the future of Whakaata Māori ahead of its 20th anniversary; profile the new head of Elam, Fiona Jack; and, as always, art and restaurant reviews

Cover illustration by Midjourney jockey, Oliver Sealy.

---