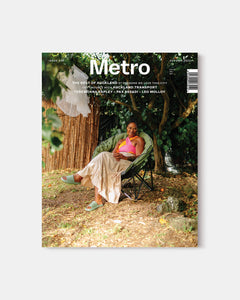 metromag
Issue 434 - Print
Regular price
$9.35
$0.00
Unit price
per
Tax included.
Issue 434/Autumn 2022 delivered in classic bound paper format.
Inside issue 434: The Best of Auckland celebrates the finest things in the city as it pulls itself back together; Hayden Donnell looks under the hood at Auckland Transport; 
Qiane Matata-Sipu on Ihumātao, activism, and learning te reo; and Metro Deadly Ponies Scholarship winner Sherry Zhang's piece on her run at the Miss New Zealand tiara.
Also: Why can't Auckland find any local arts institution directors? Who will be the next Mayor of Auckland? and what's the best zero alcohol beer?
Plus: Teremoana Rapley, Fran Jonas, Dr Damon Salesa, Leo Molloy, Hainanese Chicken, Pax Assadi, Billy Farnell, Sam Brooks, Emily Karaka, restaurant and book reviews, Tayi Tibble's astrology and more!
---